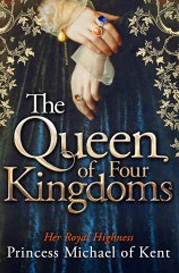 Availability:
Amazon, Waterstones and most online book retailers. Publisher: Little, Brown Book Group ISBN 10: 9781472108456 ISBN 13:
Buy Now
The Queen of Four Kingdoms
Volume I of The Anjou Trilogy
At the age of nineteen, Yolande, daughter of the King of Aragon and a high-spirited beauty, sets out with her huge train of courtiers, to wed the young Duke Louis II of Anjou in Provence, one of his sovereign territories. Betrothed since nine years, he has kept her waiting while he fought to establish his rule over his inheritance of Naples and Sicily. Reluctantly, she leaves behind her family, her friends, and everything she knows, to marry the first cousin of the King of France. The purpose of their union is to bring an end to a generation of bitter conflict between Aragon and Anjou for possession of this distant kingdom, an inheritance claimed by both their families. To Yolande's delighted surprise, their marriage becomes not only a great love story, but also sets in motion events which will change the course of history. As Louis spends more time and money fighting to regain his throne on the Italian peninsular, as her husband's regent, Yolande is left alone with their five children to govern their vast inheritance. With her wealth, her subtle intelligence, her charm – and the clever use of her spies – she becomes the saviour – not only of her own territories – but also of France.
"It was a time of high stakes and high risk, where the right choice might bring a throne in its wake, but the wrong one could lead to the scaffold, of lives wrapped in gilded velvet, but drenched in ambition and blood. Princess Michael takes the reader to the heart of this glamorous, dangerous world, and holds them spellbound. I loved it." Julian Fellowes
"Meticulously researched and powerfully evoked, Princess Michael uncovers the extraordinary life of Yolande of Aragon, the power behind the throne of 15th Century France, and the mentor of Joan of Arc." Philippa Gregory, Author