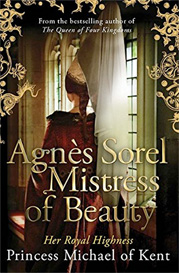 Availability:
Amazon and all good book shops Publisher: Little, Brown Book Group ISBN 10: 1472119134 ISBN 13: 978-1472119131
Buy Now
Agnes Sorel: Mistress of Beauty
Volume II of The Anjou Trilogy
The court of France is assembled for the funeral of Yolande, Queen of Four Kingdoms, led by her son, René Duke of Anjou, with his sister Queen Marie of France and his wife, Isabelle of Lorraine. Isabelle has brought Agnès Sorel, her "demoiselle" who remained with Yolande throughout the previous year, learning from her how to be of help at her son's court in Lorraine and Anjou. With time, Agnès realises that Yolande planned and prepared her – not only to keep the vacillating king on the right course, but also to become his first real love.
"Agnès Sorel: A dazzling woman trapped in a maze. A new biography captures the sense of suppressed panic that lay behind the intricate court etiquette of the 15th century" Cristina Odone, journalist and editor