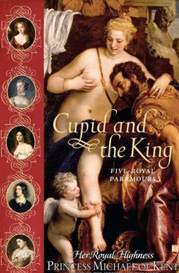 Availability: 
Amazon, Waterstones and most online book retailers. Publisher: Little, Brown Book Group ISBN 10: 0954327209 ISBN 13: 978-0954327200
Buy Now
Cupid and the King: Five Royal Paramours
"Cupid and the King" is the story of five great royal mistresses, one from each century beginning with the Renaissance. As royal marriages were invariably the result of a political or territorial treaty, the heir to the throne would have no say in the choice of his bride. It was understandable and even acceptable for him to make a choice of his heart. Some of these "paramours" became the king's "official mistress" and wielded enormous power. Some were greedy, vicious and scandalous, others were rather admirable.
"Definitely a keeper that's worthy of addition to any history buff's collection, CUPID AND THE KING is a sure bet. I'm on the lookout now for THE SERPENT AND THE KING (September 2005), Princess Michael of Kent's chronicle of Diane de Poitiers." Amy Cunningham – Romance Reviews Today